Dear Reader,
It's that time of year when ghosts, goblins and spooky things go bumping around in the night. Yes, it's Halloween. It's a chance to carve up pumpkins, put on costumes, have some parties and dole out candies to trick-or-treaters.
Even though "scary" is a word you hear a lot this time of year, choosing the right sensors for your control system shouldn't be scary, too. That's why we have applications specialists ready to give you a hand and help help take some of the scariness out of those decisions. Call BEI and we can help. No tricks, just our treat.
World's Greatest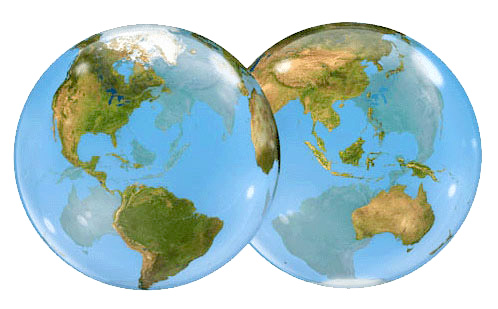 A couple of months ago we got a phone call from a video production company who had been researching sensor companies for a show called "World's Greatest'.

Though we work hard to make high quality products and to provide top notch service we hardly felt that we deserved the title of World's Greatest.

After all, there's always room for improvement.
Now it is true that we have won top recognition for the last nine years in industry-wide reader service surveys. And it is true that we have been routinely rated at very high satisfaction rates by our customers. So we decided that even though we might not give ourselves the title of "World's Greatest", it did give us even more incentive to do a better job and to live up to that name. So click on the image of the earth above to check out the You Tube video and get an inside look at BEI Sensors, the "World's Greatest" sensor company.

Perfection
" T
ruest success is but the development of self."
" Practice, Perseverance, and Patience-Win always."
" 15 minutes a day! Give me just this and I'll prove I can make you a new man."
" Step by step and the thing is done."
These motivational quotes could only have come from one man. Who else is famous for turning generations of 98 pound weaklings into hulking he-men that attract all those beautiful beach bunnies? It's none other than Charles Atlas - once dubbed "The World's Most Perfectly Developed Man" he sowed the seeds of the modern body building movement.
Most people don't realize that he was actually born in Italy as Angelo Siciliano in 1893 and immigrated to Brooklyn, NY in 1903. He was a scrawny kid by his own admission and, suffering the humiliation of bullies, he became motivated to start developing his physique. Once he realized that using "Dynamic Tension" rather than lots of weights could develop his muscles faster, he had the makings of a great mail order business. To read in more detail about his rise to fame just click that picture of Mr. Atlas, above.
Can You Solve It?

Over the years, we've noticed a that a certain amount of our phone calls start out something like, "Well it all worked fine on the test bench, but when we put it into production, we just couldn't get it to work right." So we got to thinking, what are some of the more common things that we've found that go wrong "between the lab and production floor". So this month, instead of posing a riddle we thought we might proactively see if we could help solve some of these problems before they get to the production floor. So here are some of the more common things that we've found that get in the way of a successful implementation.
1) Too high a resolution. On a test bench with the environment tightly controlled it's fairly easy to run a precision position sensor through it's paces and get a good result. Taking that same set-up to the shop floor with equipment bumping around, and maybe even some weather (you did remember your installation was going to be near a roll-up door, didn't you?) means your sensor may be reading a lot of extraneous motion that wasn't planned. Solution - look at all the potential mechanical errors in the system and choose your resolution accordingly, overspecifying this critial parameter can lead to headaches.
2) Planning for electrical noise. This one may seem obvious, but the test bench and the production environment often have very different electrical noise profiles. Your sensor for example might have the data lines running in a cable tray that it shares with power lines. Solution - specify a differential output from the sensor and use a differential receiver at the controller end. Also be sure to use a low capacitance cable with twisted pairs and shielding.
Tune in next month when we'll continue this list. But for now these two suggestions should help keep some of you from having to make that phone call.
Presto Change-o
I think it's safe to say that most people enjoy close-up magic and especially card tricks. It turns out that there is a whole class of card tricks that are based on mathematics - rather than special manipulation of the deck through sleight of hand. And these tricks are easy to learn and execute. These can even be done by those of us that are dexterity challenged.

Part of the fun, of course, for engineering types is to figure out why they work. And even if you can't figure it out entirely they are fun to do anyway. So check out this link and you'll see a bunch of short videos of mathematical card tricks. Memorize a few and maybe you can win a bar bet or two or at least entertain the kids.
THANKS FOR READING
Here's hoping you have a safe and fun Halloween. And next time you need some assistance with your control system - give us a call, we're just
dying
to help.
Product Spotlight
Here's a handy little bit of equipment to have around the lab. A dual encoder-to-USB converter. Need to get that encoder data into your computer? Then just grab this module and go. Operates in manual mode or automatic mode for sampling on the fly. Click the picture to learn more.